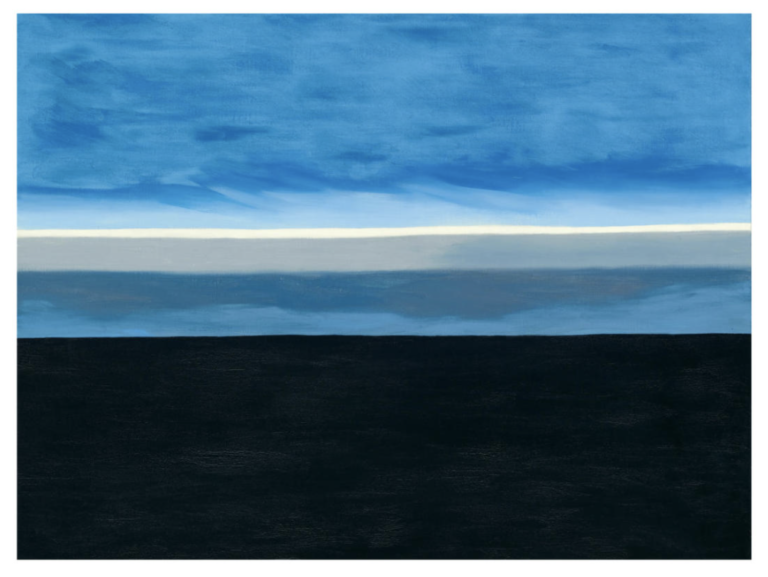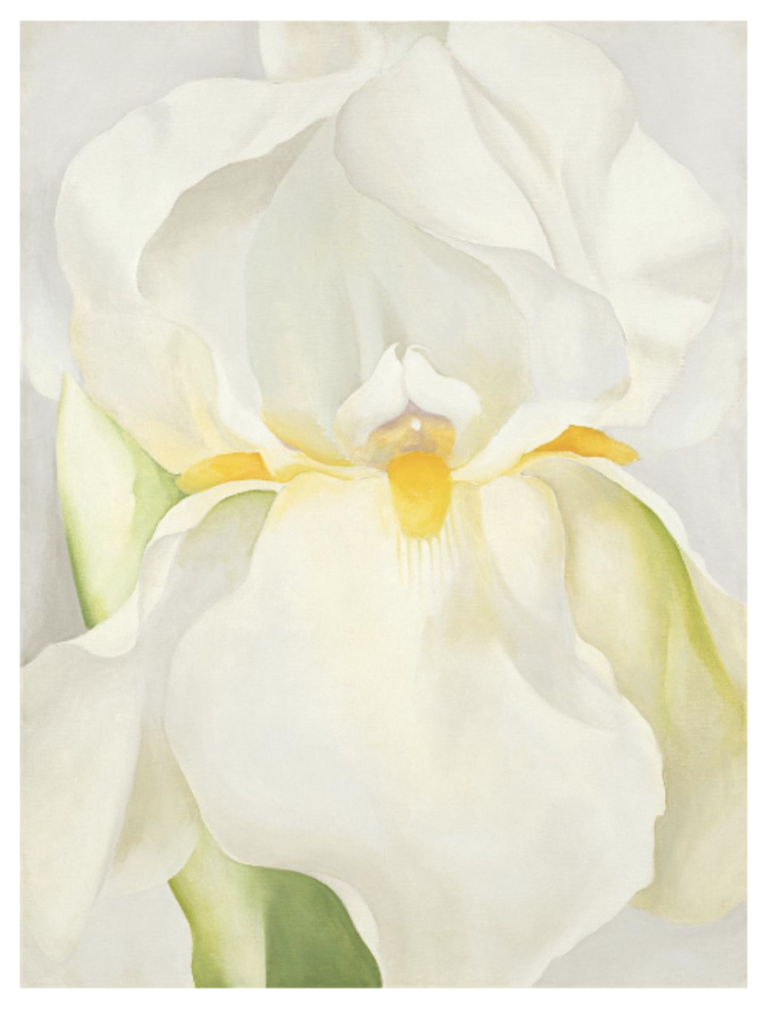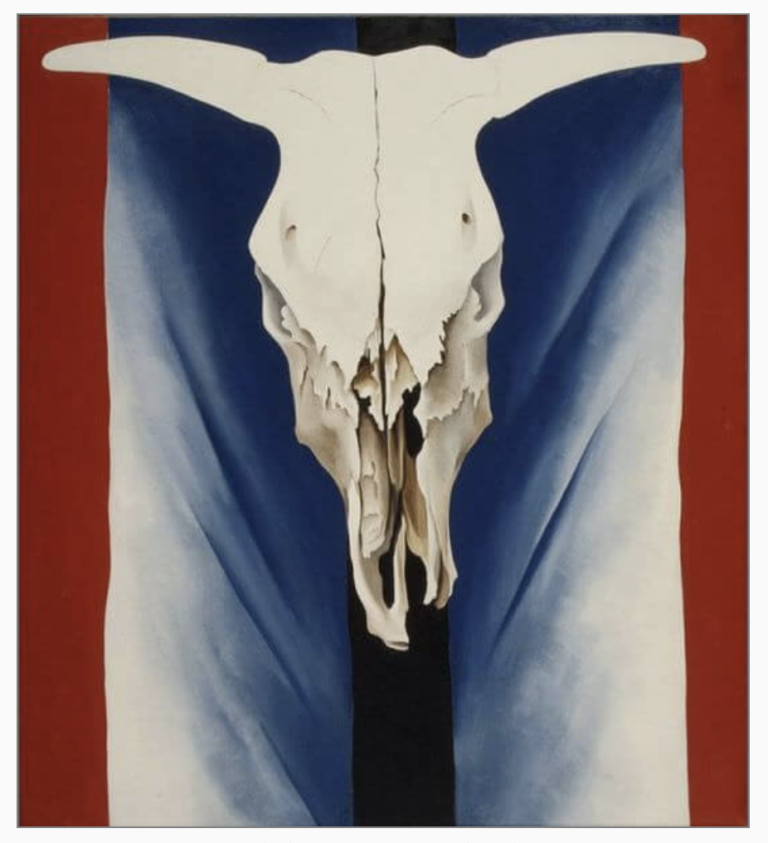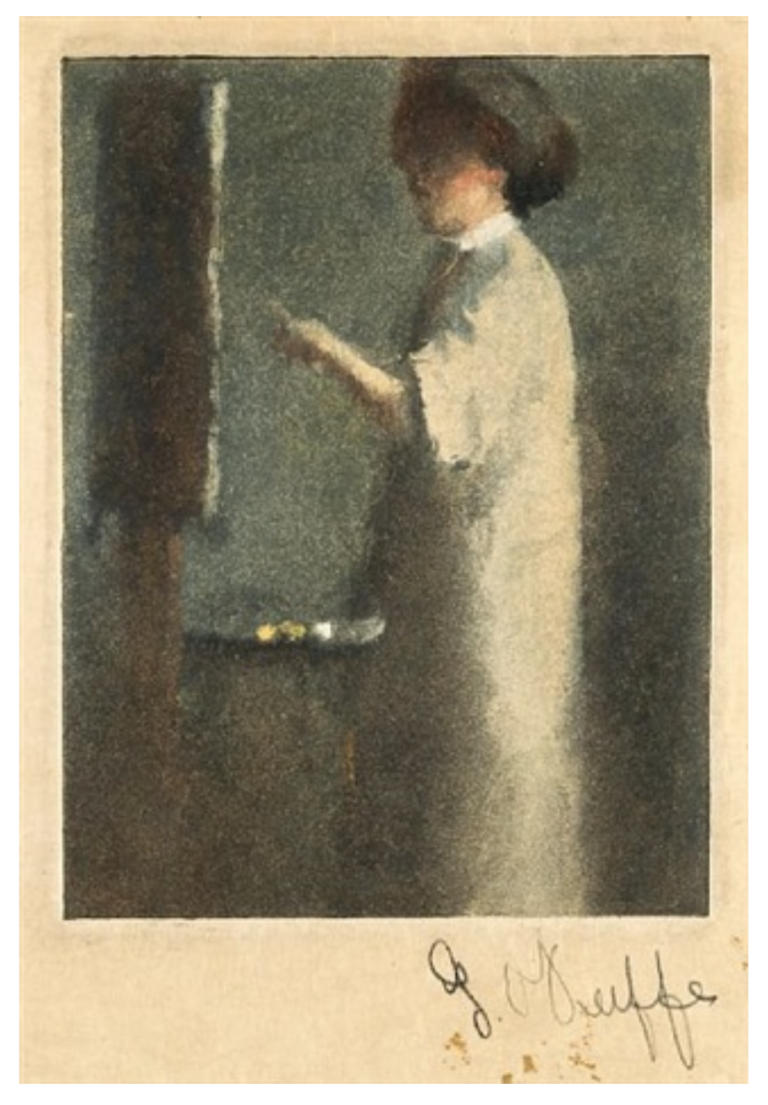 Georgia O'Keeffe
1887 - 1986
"When my eyes began to not see sharply as they had for 80 years and the world began to turn grey, I was bothered and gradually stopped working. In time, I was surprised that this world could sometimes be beautiful in a new way, and began to think — how could I start again and begin to paint this new world."

Georgia O'Keeffe in a 1970s manuscript about her vision loss
Biography
From her origins on the Wisconsin plains to her death in the New Mexico desert, O'Keeffe's life and work, which has had a monumental impact on American art, is frequently described as mythic.
She began her formal studies in 1905 at the School of the Art Institute of Chicago, then studied with William Merritt Chase at the Art Students League of New York.
Feeling constrained by the pressure to "copy nature" in art school, early in her career, O'Keeffe began to work on a series of abstractions based on the ideas of Arthur Wesley Dow. Alfred Stieglitz exhibited these abstractions at his gallery, 291, in Manhattan, which launched O'Keeffe's professional career. These abstractions were a kind of visual language O'Keeffe had discovered to express her unique truth about the world. They form the foundation of her later work, in which she explored the intersection of representation and abstraction in iconic paintings of flowers, trees, mountains, lakes, bones, and other natural forms.
Her paintings now grace the walls of most major museums.
O'Keeffe's first signs of macular degeneration may have appeared as early as 1964. As Jeffrey Hogrefe relates in his 1992 biography, she "rounded a curve in the road she was driving from Ghost Ranch on a brilliantly sunny day… and the valley narrowed to a patch of greenery along the river. It felt, she said later, as if a cloud had entered her eyeballs."
She finished her last unassisted oil paintings in 1972. In one, Black Rock with Blue Sky and White Clouds, a stone dominates the canvas, a sliver of blue sky and clouds behind it. In another, The Beyond, a wide band of darkness at the bottom of the canvas creeps toward the horizon line. Looking at it, one feels that all light will inevitably be engulfed. "My left eye has become much more cloudy," she wrote in a letter that year, "and it's as if my right eye is beginning to cloud. I assume I should know there is nothing that could be done about it. Am I correct?"
O'Keeffe sometimes elicited assistance from others when working on her canvases. The summer of 1976, for instance, she directed John Poling, then a handyman at Ghost Ranch, to execute her conception of several works, including From a Day with Juan. When he saw the painting published in ARTnews, he asked for credit. Though she advanced the claim that his "contribution had no artistic significance," she stopped working with assistance after this event.
Her final works include abstract watercolors that look back to the abstractions she did in 1915-1918. In the last few years of her life, she also worked in clay.
---
V&AP Resources Related to This Artist
Feature Article
O'Keeffe's planetary perspective shines through at the Centre Pompidou's retrospective of her work, a cosmos outside human presence.
Read More
News Forum
Georgia O'Keeffe's Blindness: An Interview with Carol Merrill
External Resources