Milford Zornes
1908 - 2008
"When eyes fail, the spirit can take over. After all, the eye is only the instrument for seeing. It is through the mind and spirit, fed and served by the senses, that one's life is lived with understanding and reward."

Milford Zornes in his essay, "Demand to See"
Biography
Zornes was born in 1908 in Camargo, Oklahoma, so far out in the country that his birth was never recorded. His mother, a schoolteacher, taught him how to draw.
Zornes's father, a rancher and wheat farmer, couldn't make a living in Oklahoma. As a result, the family moved to Boise, Idaho when Zornes was seven. When he was a senior in high school, they moved again, to San Fernando, California. In his late-life writings, Zornes talked about how, though he was known at school as "the kid who could draw," it never occurred to him to become an artist. He received no formal art training during his school years.
Adrift after graduating from San Fernando High School in 1925, Zornes hitchhiked across the United States. He ended up in New York, boarded a Denmark-bound freighter as a seaman, and, when the freighter docked in Copenhagen, left the boat and toured Europe until his money ran out.
He returned to California in 1929. Unable to get a job or go to school because of the stock market crash, he filled his time painting. Upon which he became, as he wrote, "lost to it."
Zornes enrolled at Pomona College in 1930 in order to study with Millard Sheets, a California Scene painter who was only a year older than Zornes but more advanced in his artistic practice. After a few years of training, Zornes worked through the federal Works Progress Administration (WPA) painting murals.
During World War II, he served in the Army as part of a battalion of creative types from Southern California. After the war, Zornes began teaching at Pomona College. He resigned after only a few years, however, because it dominated his working life and allowed little time for painting.
For about ten years after leaving Pomona, he worked a string of jobs unrelated to art. Not until the mid-1960s did he begin earning a livelihood from his art. His work had been acquired by several major museums by then (including the Metropolitan Museum of Art and Los Angeles County Museum of Art). He'd also become an integral member of the California School of Watercolor Painting.
Zornes's post-macular artwork
Zornes learned he had macular degeneration in 1989. In an essay he eventually wrote, titled "Demand to See," he describes his initial depression and grief, then slow adaptation to the disease.
As he recounts in his essay, as he adapted, he took less for granted and valued "every view and every opportunity to see." He would return from travel with more impressions and memories than before, impressions "as clear in my mind as any I have ever experienced." He came to understand that he had always been partially blind. That vision involved more than the eyes.
By the end of his life, Zornes had spent two decades painting with macular degeneration. He relied on instinct, muscle memory, and scenes from his imagination to create his post-macular works. Rather than being accurate to the appearance of his subject, he sought to express what he called its "feeling." Shortly before his death, he was interviewed by his alma mater, Pomona College, and talked about how difficult it still was to find the daily "courage" to work from scratch when he could no longer see to "do it" the way he wanted to.
---
V&AP Resources Related to This Artist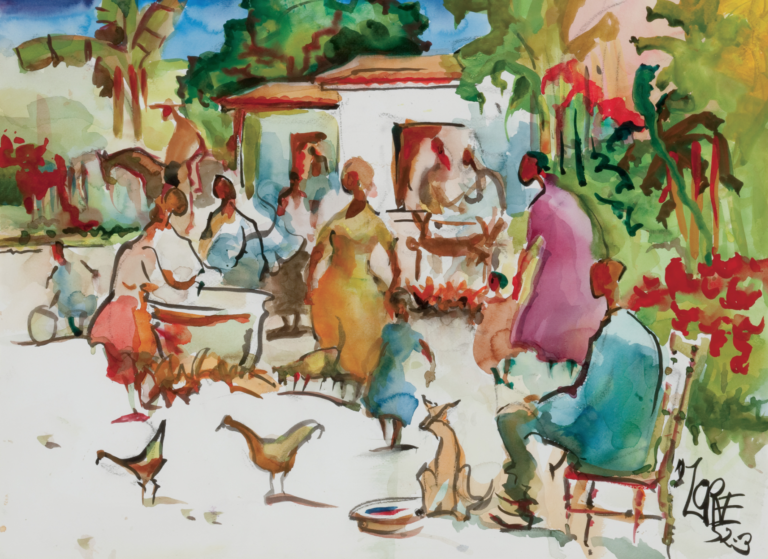 Feature Article
In writing about his vision loss, Milford Zornes wanted to impart hope. He did so by acknowledging the pain of loss.
Read More
External Resources